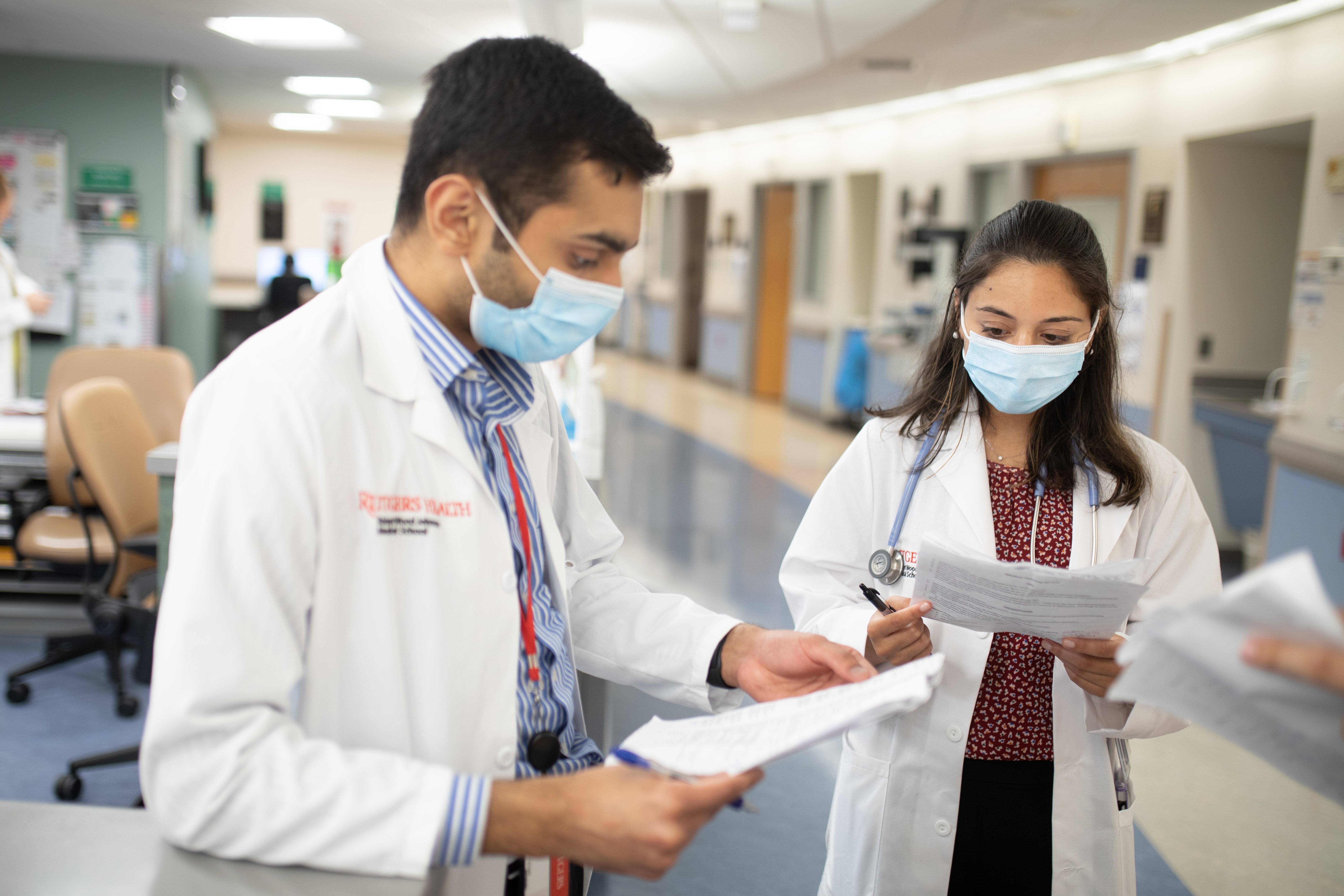 Inpatient Rotations
Floor teams are structured to include a senior resident (PGY-2 or PGY-3), an intern, a fourth-year medical student (sub-intern) and one or two third-year medical students working closely with their assigned teaching attending in one to two week blocks.  Interns care for an average of  8-10 patients at any given time.  In addition to weekday didactic conferences and noon report, daily teaching rounds occur at the bedside.
Late call until 8pm, short call until 2pm, and pick up mornings are interspersed to ensure adequate teaching volume, case mix diversity, and preparedness for practice and fellowship training, in a drip model. Experience in the closed Intermediate Care Unit (IMCU) at Princeton, the liquid oncology teaching service at RWJUH, and the Intensive Care Units at RWJUH present opportunities for developing skills that assist with recognizing "sick" patients at a glance, triaging and prioritizing clinical demands, and gaining procedural skills under direct supervision.
Dedicated night float teams assume admitting and cross coverage responsibilities for patients on the teaching services at both hospitals.  Signout rounds, allow for supervised education during care transitions.
Schedule at RWJUH
Drip admission system on floors with 4 floor teams (1 resident, 1 intern)
1 Admitting resident/intern team
Long call q4/5 till 8pm
Typical non call day is from 7am – 4:30pm
Backup resident support
Night Float (Sunday-Friday) 8pm-8:30am
MICU: Day & night shift teams include residents, fellow & 24/7 intensivist support
CCU: Day & night shift teams include 2 residents, 1 fellow & 1 attending
Leukemia & Lymphoma Service: Staffed by 2 residents, 1 Fellow & 1 Attending
Schedule at Princeton
Drip system on floors with 3 teams (1 resident, 1 intern per team)
1 admitting 2 resident team
Long call q6 till 8pm
Typical non call day is from 7am-4:30pm
Night Float (Sunday-Friday) 8pm-8:30am
Intermediate Care Unit Team: 1 resident & 1 intern team under attending supervision
No ICU rotations at this site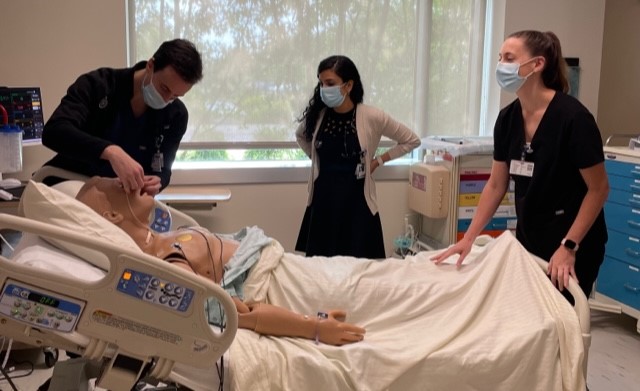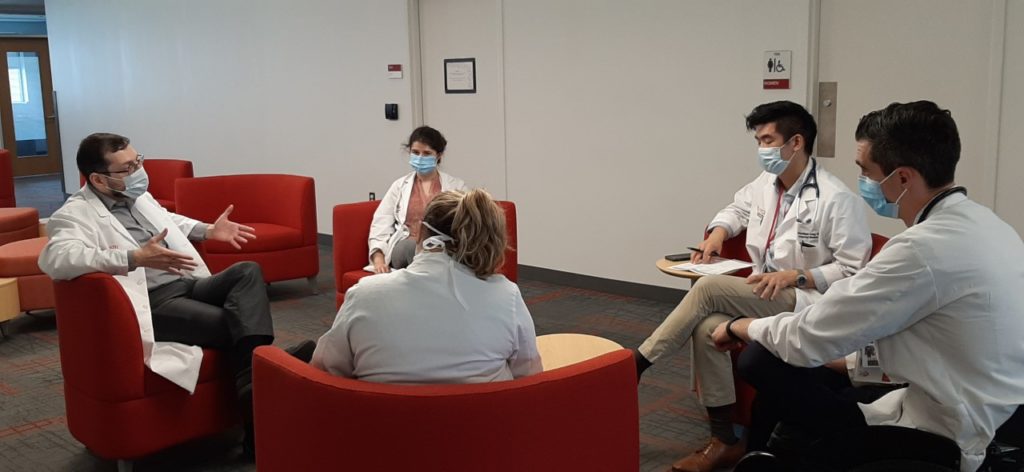 Electives and Selectives
Our residency program offers electives in both traditional and nontraditional internal medicine specialties. Electives are available through our faculty practice and various private office settings between New Brunswick and Princeton. Elective time is uninterrupted by any inpatient or clinic obligations and allows our residents to completely immerse themselves in the elective experience. Residents work closely with subspecialty faculty, fellows and fellowship directors, establishing opportunities for mentorship and career counseling.
All interns participate in a combined Geriatric medicine, addiction medicine and osteoporosis selective while senior residents experience urgent care, HIV, outpatient palliative care, dermatology and the transgender clinic.
Some of the structured electives offered in our residency program beyond routine subspeciality experiences include : Congestive Heart Failure, Electrophysiology, Bone Marrow Transplant, Hematologic Pathology, Renal Transplant Medicine, Hypertension and Practice Tailoring (GIM Private Office, Pharmaceutical Industry, Health Care Insurers, etc). For those rare instances when residents seek specialized training not available at our institutions, special arrangements can be made for rotations at external sites on a case-by-case basis.
Electives are available to both interns and residents in one or two week blocks. All electives are free of call and have no weekend coverage obligations. In addition to requesting research blocks, all residents are strongly encouraged to engage in research during their elective rotations and continuity clinic weeks.
Continuity Office Practices – Ambulatory Curriculum
Each resident is assigned to a general medicine continuity clinic site for the duration of their training.
Residents attend continuity clinic (includes tele-medicine) every fifth week for five clinical sessions where they evaluate initial/return visits of patients representing cultural, socioeconomic and disease diversity. Residents are the primary care providers and assume all clinical responsibility for a panel of patients with a broad range of medical conditions under the supervision of dedicated teaching faculty. In addition, residents provide preventive health services, consultation services, preoperative evaluations, and disability determinations for their patients.  Attempts at incorporating Population management integrated into quality improvement is being built into the clinic experience for all residents.
The mornings during clinic week focus on board review, ambulatory didactics, and EBM education – all moderated by members of the program leadership. Time for subspecialty research and clinical quality improvement is frequently carved out of the schedule. Residents who have met their research requirements may avail of this time to gain clinical experience in the future specialty of their choice (ex: IBD or HF or obesity medicine clinic).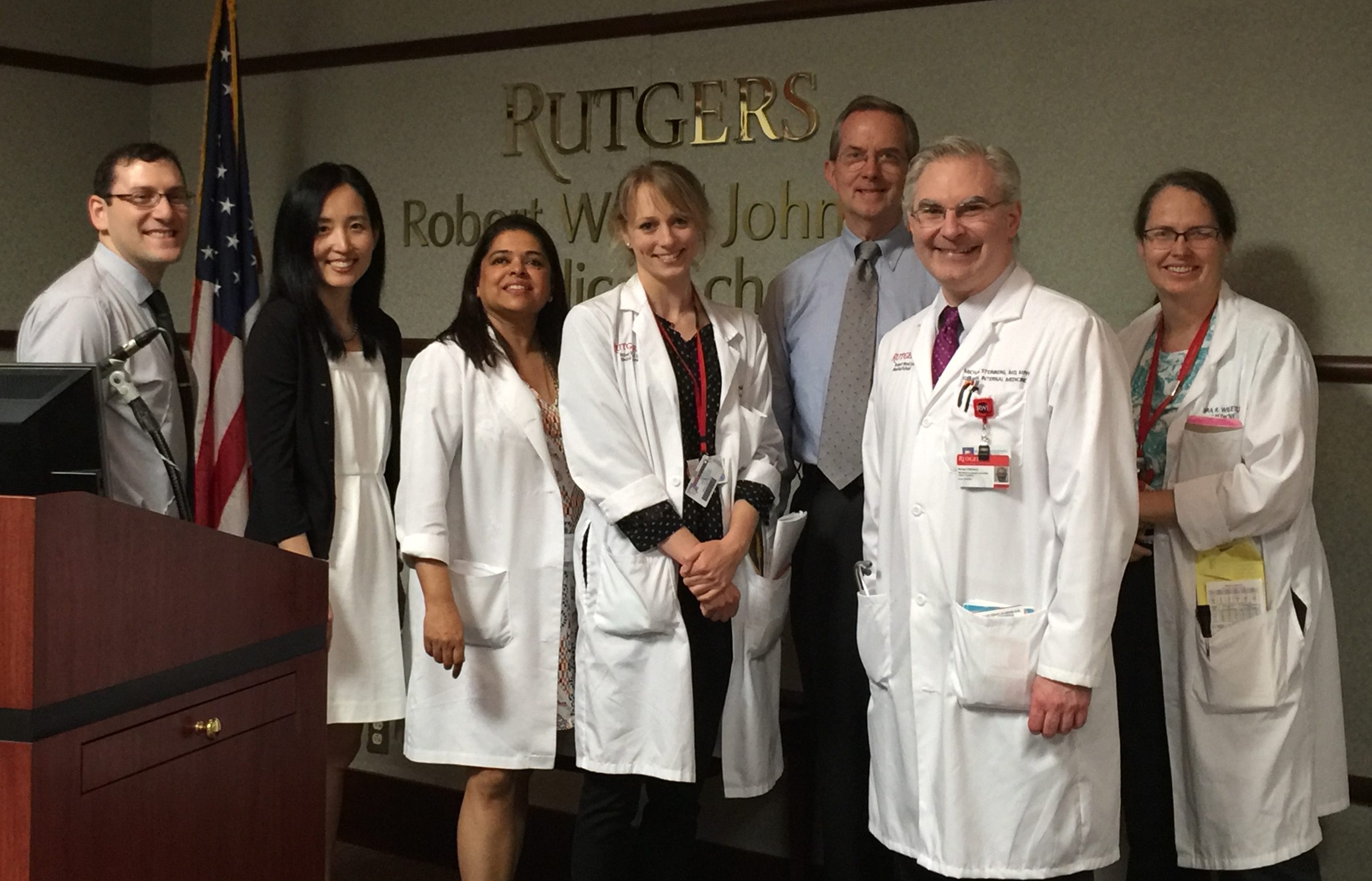 Rounds and Conferences                                                             
All rounds are conducted at the bedside daily with dedicated hospital-based teaching faculty at both hospitals.
Conferences:
Board Review – Daily morning board review facilitated by a member of the program's leadership conducted during ambulatory clinic week. ACP's MKSAP modules form the curricular basis for team-based learning.
Noon Report – Cases presented by interns and residents are moderated by the chief resident and faculty. Innovative and engaging presentation and discussion formats are utilized.
Noon Conference – 45 minute sessions on key topics are delivered by subspecialty faculty.
Journal Club – Residents deliver weekly journal club presentations where clinically relevant literature is reviewed and research design and methodology is discussed.
Grand Rounds – Weekly Grand Rounds delivered by nationally renowned experts in the specialty of medicine are conducted throughout the academic year.
Special Conferences – include a Summer Emergency Lecture series; Morbidity and Mortality; Quality and Safety, Combined IM-Specialty conferences,  are interspersed throughout the year.
Competency-Based Curriculum
Our curriculum encompasses all the ACGME competencies in the context of the Art, Science and Business of Medicine.
The Art of Medicine curriculum covers a broad range of topics in the areas of implicit bias and microaggressions, physician wellness, medical ethics, communication, cultural and professional competency, and end of life care, to name a few. The format for these conferences include open discussions and case based presentations. Five conferences are delivered each year with residents and fellows in the department of medicine actively engaged in discussions.
The Science of Medicine curriculum consists of core clinical topics in the areas of General Internal Medicine, Allergy and Immunology, Cardiology, Pulmonary, Nephrology, Gastroenterology, Rheumatology, Hematology, Oncology, Endocrinology and Infectious Disease.  These talks are delivered on an annual cycle during noon conference at both our sites by subspecialty faculty.  A separate core conference series for the ICU takes place in the ICU.
The Business of Medicine curriculum includes topics related to career options in medicine, healthcare law, coding/billing, managed care and consultative medicine, personal finances, and employment terms and contracts etc. Approximately four conferences delivered by faculty and area experts are conducted each year.