Healthcare Leadership and Management Track
Our Mission
To inspire and prepare the next generation of physician leaders and executives by bridging the gap between clinical medicine and management, pharmaceuticals, innovations, consulting, informatics, payors and venture capital.
Core Curriculum
The curriculum consists of: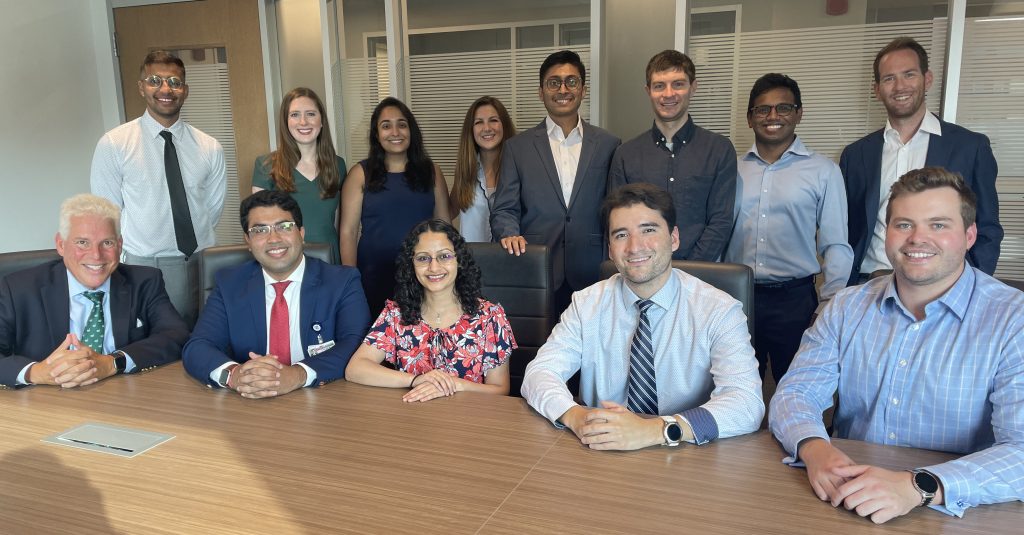 Didactics & Discussion sessions
Professional Speakers
Experiental Learning & Internships
Hackathons & Competitions
The residents must commit to the program for a minimum period of 1 year and are strongly encouraged to enroll for the three-year training period.
Didactics & Discussion Sessions
Business of Medicine Course @ www.headmirror.com, by Ashley Nassiri MD, MBA, Matthew L. Carlson, MD and David S. Haynes, MD, MMHC.
We use the business of medicine curriculum developed by Ashley Nassiri, MD, MBA in podcast format where she has discussions with national/international experts in the areas of leadership, care delivery and practice management.
The podcast format gives residents flexibility to listen and learn at their convenience and individual pace.  The podcasts are assigned every few weeks and followed up with discussions during dedicated time on ambulatory blocks.  Completion of the course results in 19 credits of CME.
Professional Speakers
During each ambulatory block, leaders, including program alumni, from a variety of healthcare fields involving clinical medicine, pharmaceutical industry, healthcare consulting and start-ups, informatics and AI, venture capital, and payors are invited to give interactive presentations to our residents. These platforms are invaluable for real world learning, networking, and mentorship.
Experiential Learning and Internships
Practice tailoring experiences are an integral part of the curriculum. Our program provides opportunities to use elective time to explore learning venues beyond traditional clinical medicine. Examples of current partnerships include electives at Horizon Blue Cross/Blue Shield of NJ, Hospital C-Suite shadowing, Bio-Pharma rotations, etc.
Hackathons and Competitions

We support residents in exploring interests in healthcare innovation through hackathons and competitions. In 2022, our RWJMS team won 1st place and grand prize at the Yale CBIT Healthcare Hackathon – BaroCor, an innovative medical device aimed at reducing congestive heart failure exacerbations. These events spark creativity, promote team building skills and offer a wide array of networking opportunities.
Curriculum
Topics covered during the academic year include:
Drivers of healthcare expenditures

Physician roles in the Pharmaceutical Industry

Pharmaceutical costs and affordable medicine

Healthcare Consulting

Healthcare and Biotech Start Ups & Investments

Medical Informatics, IT and Health System Efficiencies

Hospital Administration / Path to Chief Medical Officer
Faculty Advisor
Jay Naik, MD